:::Jazzthing 2018:::
01.04.2018: Top 10 young german Jazz pianists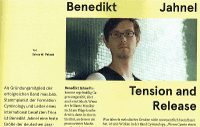 The best-selling German jazz magazine JAZZTHING has selected Benedikt among the top 10 most influential young German Jazz pianists. Ssirus Pakzad writes: "Anyone who hears the recordings of Jahnel's tried and tested trio (...) quickly realizes that his brain and heart are in the best possible way." Jahnel's music is very intelligent - but would only be worth half as much if it were not for mental achievements even with animated melos, with lyrical and unconditional beauty."